The sea is history: plantation capitalism
Louis Henderson[1]
And the last lines she read were:
"If this was done — they promised — the revived huacas would turn the world around and destroy the Spaniards by sending sickness and floods to their cities, the ocean rising to erase any memory of their existence."[2]
***
She was standing at the edges of Lago Enriquillo – a hyper-salinated lake towards the west of the Dominican Republic, on the border with Haiti. The lake had been flooding the surrounding land and in the process destroying villages, trees, farmland and consequently the lives and habitats of the local people, plants and animals (refuge had been created in the settlement of Boca de Cachon, recently rebuilt on plains high above the water). Half submerged in brown water, a plantation of dead palm trees, leafless, lifeless, still, shimmered in its own reflection. Some people said the rise in the lake's water level was due to climate change and the warming of the global ocean. Others said it was for other reasons. Some recounted tales of government organised floods to release hidden oil under the lake's bed, whilst others told of a corrupt local dam project that syphoned its excess water towards the channels that fed the lake. Yet Lago Enriquillo was getting saltier – perhaps the ocean was seeping in through underground torrents? Regardless of the real reasons as to the water's expansion, she looked at the lake as a present example of an apocalyptic future bound up with a certain past — a past that perhaps contained the code to a different future.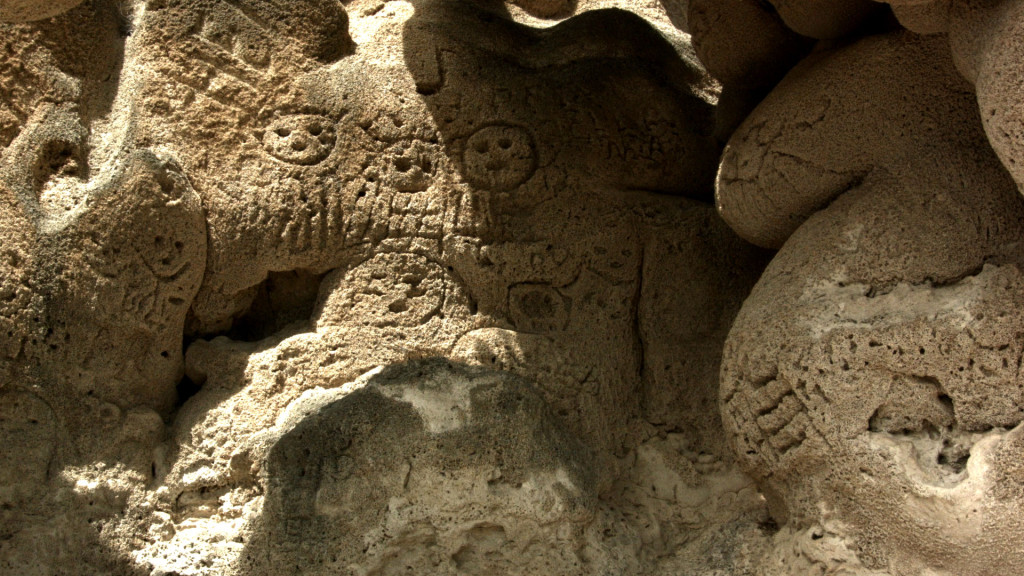 Pre-Taíno petroglyphs at Las Caritas, Lago Enriquillo, Dominican Republic
It was here on this island, she thought, that the Spaniards first arrived and were discovered by the indigenous of this land. 1492 and the ocean enters history. Different cultures came together violently on the same patch of earth, yet (if anything could be reaped from this moment) the seeds were planted for a future Relation that would in time disintegrate the roots of territorial legitimacy. It was here on this island, she thought, that the plantation system was first developed to the degree that allowed for global capitalism to take its hold on the earth. A system based on the domination and mass exploitation of a local labour force, and eventually, after the near total destruction of the native population, economic growth in the Old World was secured through the uprooting and transportation of a far away labour force. "Slavery, the nucleus of modern day capitalism" she said, and then: "capitalism, the nucleus of our present ecological crisis". The island in which she found herself at that moment started to take on the shape of a circle closing in on itself — a snake eating its own tail: ouroboros. This history had designed its own death from the very beginning, a hell bent process of extraction at every level. Metabolic rift after metabolic rift until nothing was left of what it once was and everything ready for what it would be.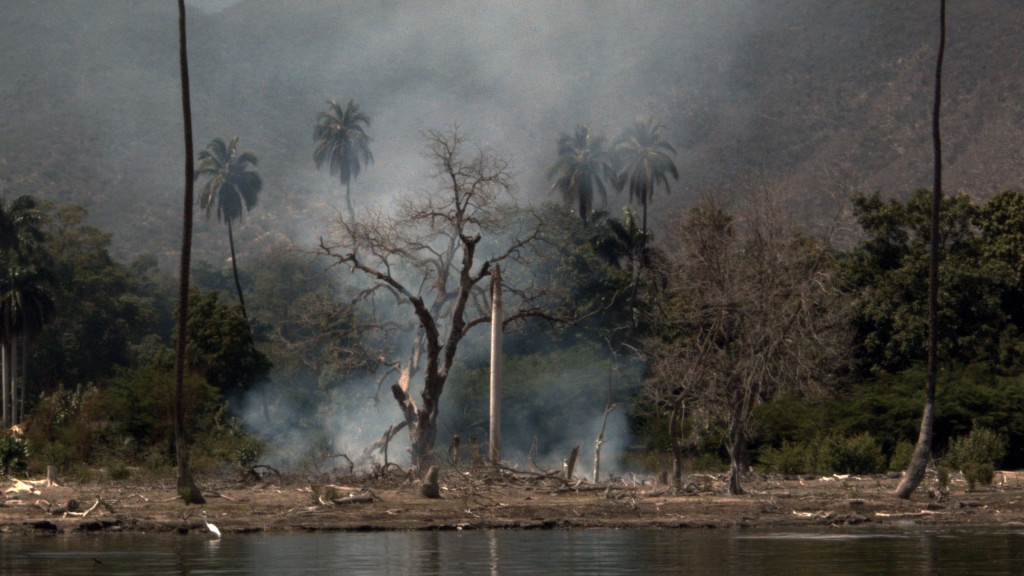 Lago Enriquillo, Dominican Republic
As the sun set over the sea, the moon was already rising on the other side of the lake, and she thought of a word: phoenixology. Creation from destruction. Life from death. Resurrection and rebirth. The island had generated these beginnings that signalled their own ending, yet all was not irretrievably lost. Think of what has been created here, she said, resistance to oppression sustained by many different beings, and amongst the violence and the horror of civilization, new unknown and unforeseen cultures emerged from the wreckage. The becoming kreyòl of the Caribbean could be precisely the global force for the future of all new possible worldings – based on an identity built upon a poetics of Relation. This Relation Identity could appear (and had appeared) through the chaotic errantry that would encourage an experience of contact amongst different cultures. It would be (and has been) an identity unconcerned with territorial claims of filiation and the legitimate ownership of land or knowledge, and in fact would have (and has had) no claims to a territory, as this Caribbean would be (and had been) a rhizomed land — from which one "gives-on-and-with rather than grasps."[3]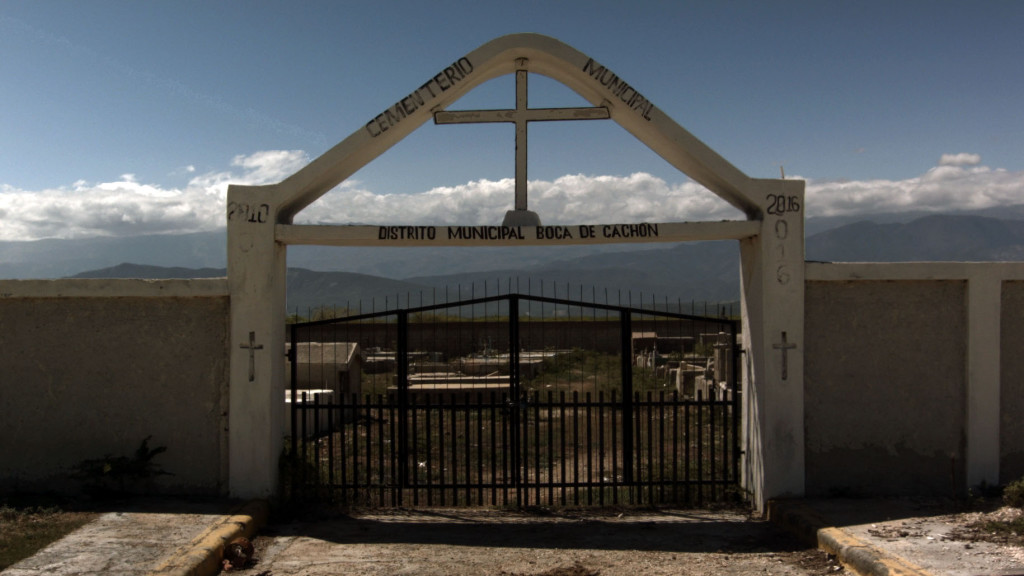 Municipal Cemetery, Boca de Cachon, Dominican Republic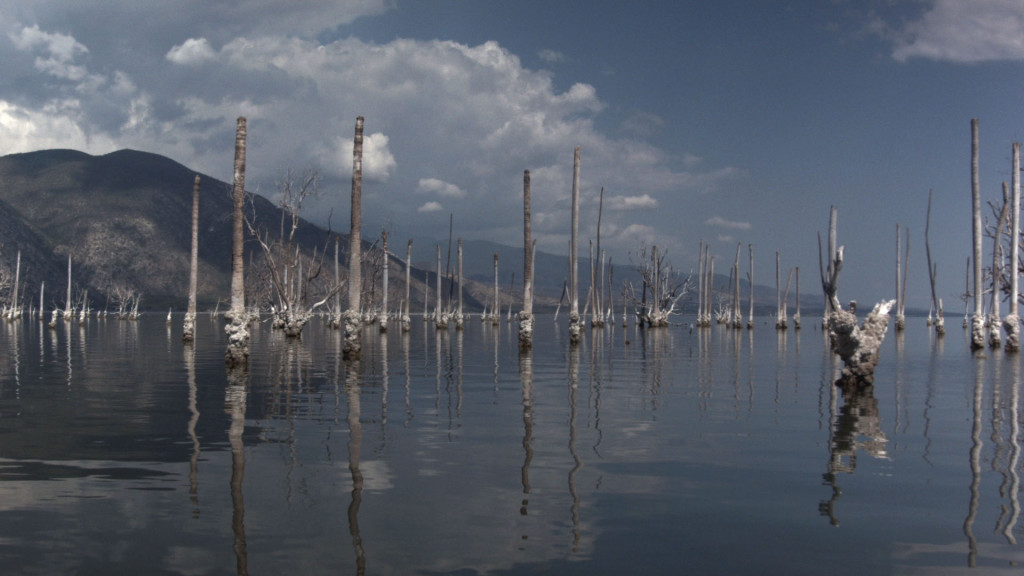 Dead trees, Lago Enriquillo, Dominican Republic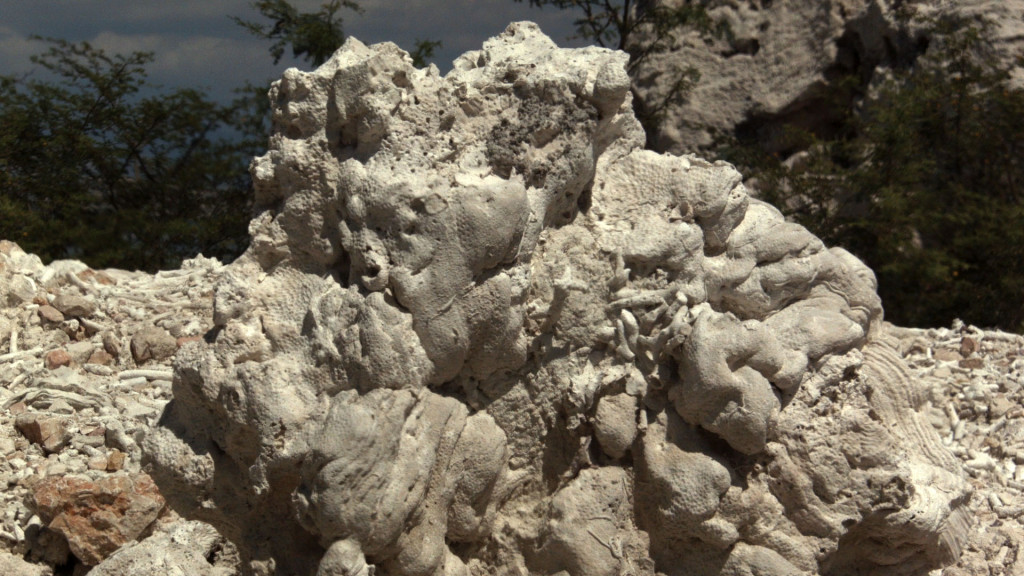 Fossilised coral, Lago Enriquillo, Dominican Republic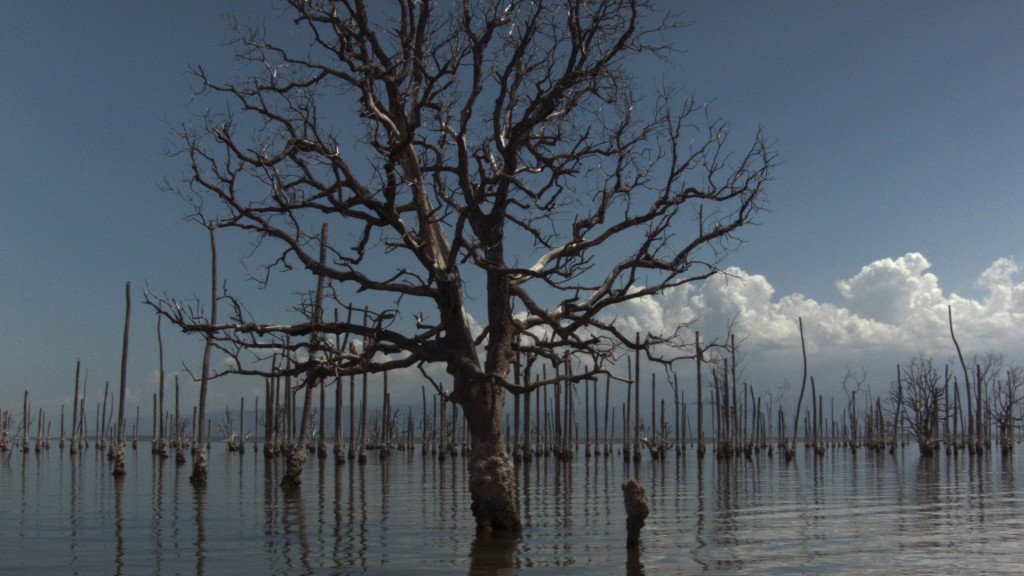 Dead trees, Lago Enriquillo, Dominican Republic
Geodynamics asks of a mountain: what ocean were you before you were what you are now? And looking at the mountain sierras of Bahoruco and Neiba, she thought of how the lake was once part of the Caribbean Sea, how it divided the island in two and how when the sea levels dropped between the hills, what was left was this below-sea-level-salty-lake. Underfoot were shells, and underground were corals. She inhabited the negative space left behind within the imprint of a prehistoric coral reef, once teeming with many species of aquatic animals and now vibrating with their fossilised non-presence. The corals were frozen in different forms reflecting the undersea currents of a past time, and as such she understood them not to be dead but rather existing within a different ontological sphere in which life was coeval with death. This fossilized coral reef was like the graveyard in downtown Port-au-Prince: a space for the living dead. She picked up a shell and examined it  — trying to pry inside the secrets it might have held. Yet the shell remained closed and kept its black pearly riches behind its opaque camouflage (the beach might have been black from volcanic sands – the burning beach).
The paleontologist walking beside her explained that he was studying these fossilised coral reefs to try and find out the ways in which these creatures once lived — in order to find ways that their brother and sister corals could continue to live in the present. Almost eighty per cent of all coral has died in the Caribbean due to the rise in sea temperatures in recent years. Corals create a refuge for algae called zooxanthellae, and zooxanthellae provide necessary chlorophyll for coral photosynthesis — together they create a symbiotic habitat in which they mutually protect one another and generate the flourishing of life. When the sea is too warm, corals expel zooxanthellae and thus start the process of their own death: through the impossibility of photosynthesizing, the corals stop metabolizing and begin to bleach. They turn a ghostly white and start to die. Recent eco-projects in the Dominican Republic have started to try and grow coral again to recreate the submarine ecosystems that allow for sea-life to thrive; yet they insist on growing a single, particularly strong genus of coral. These monocultural coral plantations do not contain the necessary diversity to sustain their growth, and so they too begin to die.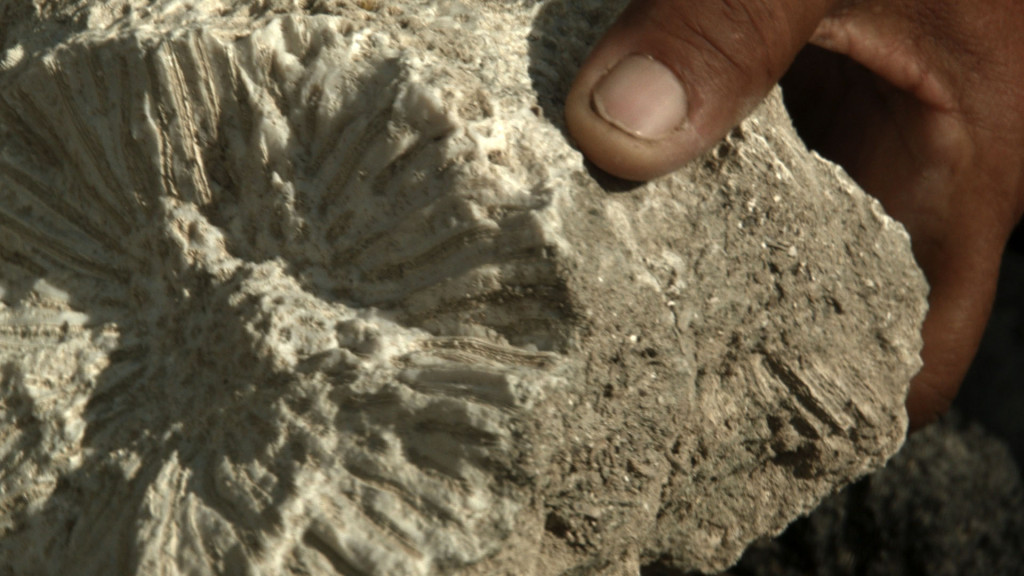 Fossilised coral, Lago Enriquillo, Dominican Republic
Yet the palaeontologist believed that nonetheless, even faced with extinction, the corals of the Caribbean still have the chance to live. It is through learning from the dead that he could find new ways in which the corals can transform and mutate and become other forms of multi-species, multi-genus ecosystems — as ways to continue to live with and through their dead, and beyond the boundary event that could be called the Plantationocene, the Capitalocene, the Petrolocene (our geological present). The palaeontologist held in his hand a large, white piece of fossilized coral that perhaps indicated this post-anthropocenic future. He explained to her that he held in fact three pieces of coral in one. Three pieces of coral that do not live in such intense proximity anymore, but that did once live as cohabitants in a polyphonic refuge. His argument was that if we could work out possible ways of creating precisely these kinds of multi-species assemblages, then we have a much greater chance of allowing life, in some form or another, to continue to exist after the inevitable end of the world as we know it.
And so she said to him:
"One way to live and die well as mortal critters in the Chthulucene is to join forces to reconstitute refuges, to make possible partial and robust biological-cultural-political-technological recuperation and recomposition, which must include mourning irreversible losses. There are so many losses already, and there will be many more. Renewed generative flourishing cannot grow from myths of immortality or failure to become-with the dead and the extinct."[4]
And he to her:
"Look within the creole garden, you put all species on this tiny lick of land: avocados, lemons, yams, sugarcanes…plus thirty or forty other species on this bit of land that doesn't go more than fifty feet up on the side of the hill, they protect each other. In the big circle everything is put into everything. He who finds the strength to mix has the strength to find."[5]
And then, they both heard:
"[…]in the dark ears of ferns
and in the salt chuckle of rocks
with their sea pools, there was the sound
like a rumour without any echo
of History, really beginning."[6]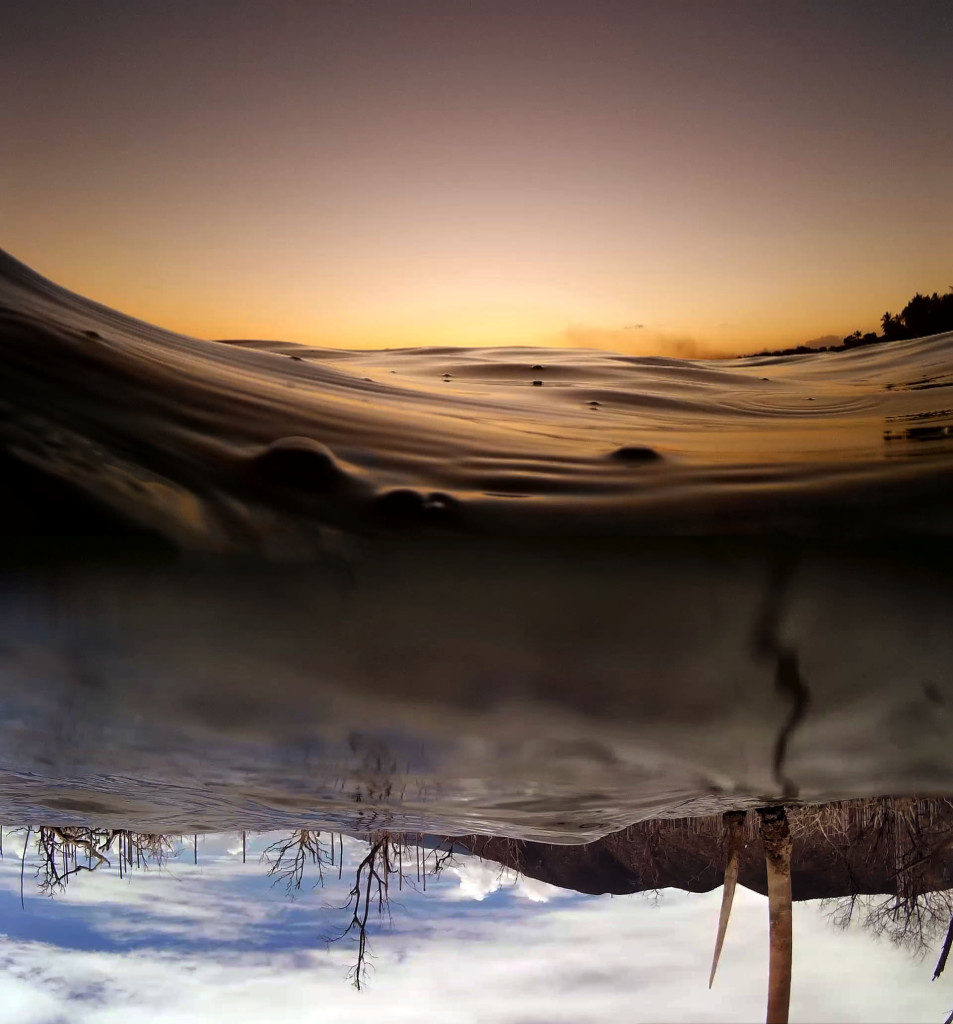 Recebido em: 20/11/2017
Aceito em: 01/12/2017
---
[1] Louis Henderson is a filmmaker who is currently trying to find new ways of working with people to address and question our current global condition defined by racist capitalism and ever-present histories of the European colonial project. The working method is archaeological. Henderson's films are distributed by Lux (UK) and Video Data Bank (USA).
[2] FEDERICI, S. The Caliban and the Witch: Women the Body and Primitive Accumulation. New York: Anomedia, 2004, p. 226.
[3] GLISSANT, E. Poetics of Relation. Trans. Betsy Wing.  Ann Arbor: University of Michigan Press, 1997, p. 144.
[4] HARAWAY, D.  Anthropocene, Capitalocene, Plantationocene, Cthulucene: Making Kin. In Environmental Humanities, vol. 6, 2015, p. 162.
[5] Edouard Glissant cited in LOICHOT, V: Orphan Narratives: The Postplantation Literature of Faulkner, Glissant, Morrison, and Saint-John Perse. Charlottesville: University of Virginia Press, 2007, p. 149.
[6] WALCOTT, D. The Sea is History. In Selected Poems, London: Faber and Faber, 2007.